Our hhstudio software makes it easy to order high-quality retouching services for your photos. In this tutorial, we'll show you how to use our simple step-by-step process to order retouching for your photographs.
In our hhstudio software, start by selecting the photos you want to retouch. Next, choose the retouching options you want, such as skin smoothing, blemish removal, or fix stray hairs. You can also specify any special requests or instructions.
Once you've completed your order, simply submit it and our team will get to work right away. You can track the status of your order and receive updates on when it will be completed.
When your retouched digital files are ready, you can download them directly by logging into your account on hhcolorlab.com. With our hhstudio software, ordering professional photo retouching has never been easier.
For more information on our retouching services, you can visit the Retouching Services page on our site :
With an image (or images) uploaded to your Lightbox in HHStudio, select the image you want to have Retouching applied to, and click on the "R" button at the top of the Lightbox section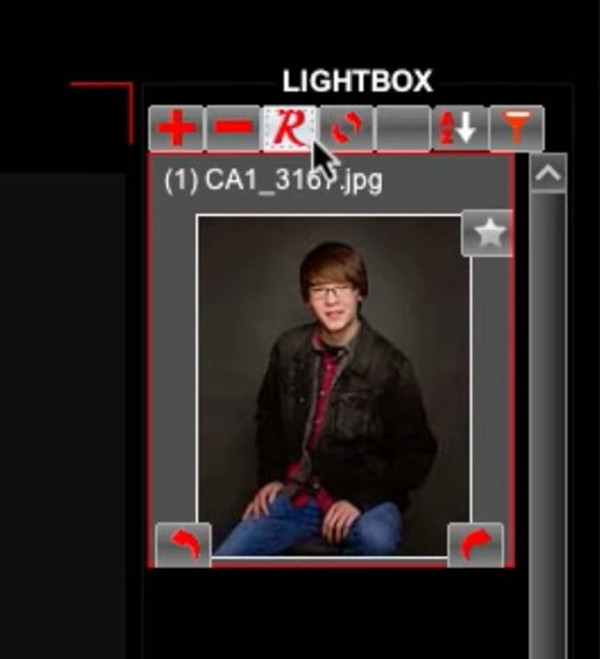 A new window will appear, with options for the different retouching services. To have retouching applied to a specific subject, open the People dropdown. To retouch the image itself, select the Entire Image dropdown instead. You can have multiple services done on one image if you so desire. If you are unsure what a specific service does, simply hover your mouse over said service, and a tooltip text box will pop up for you with a basic description of the service
If you have selected a service by mistake, or simply changed your mind, locate the service in the "Options You Have Selected" box below and click on the minus symbol to delete it from your image order
If you have specific instructions for the Retouching team, or wish to clarify things like which subject you want modified out of a group, you can write it down in the "Retouching Instructions" text box next to the "Options You Have Selected" box
Once you have the services you want applied to your image, click OK and continue with your order as normal. To review what services you have applied to the image(s), go to the Finalize Order tab at the top-left of the screen