Are you a photographer that is new to using H&H Color Lab's printing and product solutions? One of the first steps you will want to complete is to verify we can meet your expectations for color and density. In this video, we'll guide you through the steps to submit your color test in HHStudio.
First, we'll show you how to start an order in hhstudio and import the images for your color test. We'll explain what type of images you should select for the best test.
Next, we'll walk you through the process of navigating to the color test submission product in the hhstudio and how to add the test to your order. We'll also explain how to submit that color test order to the lab for production.
Finally, we'll explain what happens once you submit the test order and what you should expect to receive back from the lab. By the end of this video, you'll know how to successfully submit a color test in HHStudio and ensure that H&H Color Lab meets your standards of color and density. So, let's get started!
Think about what kind of images you want to color test. The goal is to use images that represent the type of work you'll be doing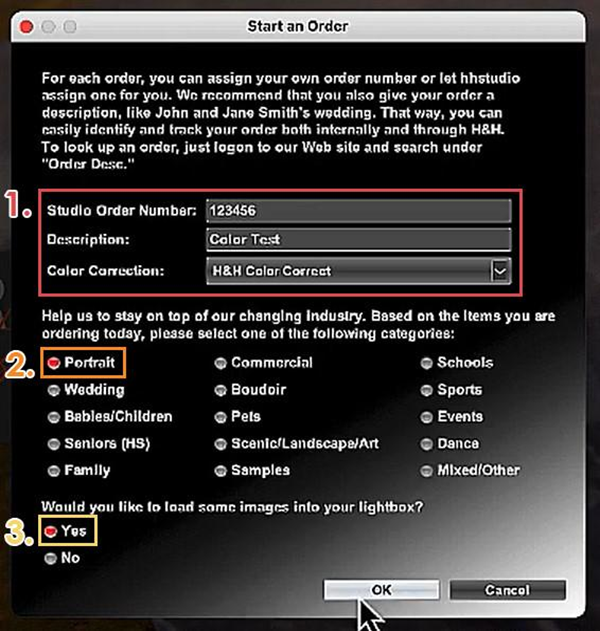 Click Start an Order and fill out the relevant information in the window that appears. When finished, click OK, and then select all images you want to use in the navigator/file explorer that appears before clicking Open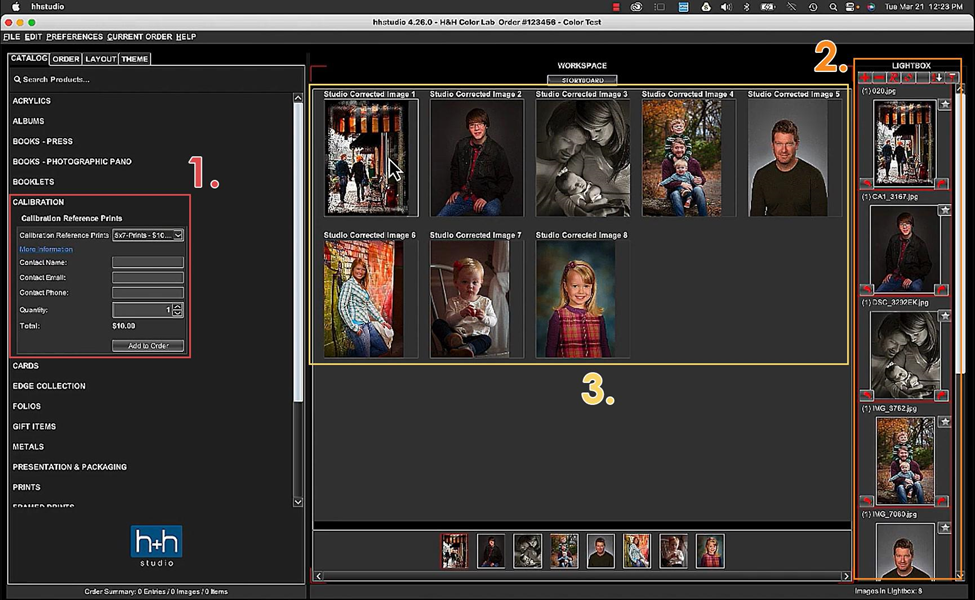 You'll see the images you selected appear in the Lightbox on the right-hand side of your screen. The left-hand side of the screen is the Catalog, where you can locate the products or services you wish to apply to the images in your Lightbox
In the Catalog, select Calibration > Calibration Reference Prints
Fill out the Contact Information in the text spaces back in the Catalog section
Select all of your images in the Lightbox (press Ctrl+A to select All), and drag them into the workspace at the center of your screen. The images you have should snap into place within the workplace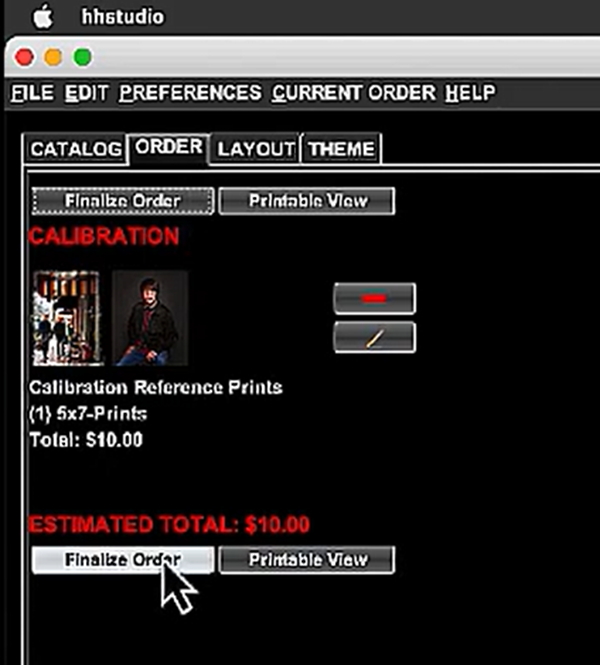 Click Add to Order. You should see your images zoom into the Order tab. Select that tab, and review your order. If everything looks good, click Finalize Order. In the window that appears, click on the right arrow button to navigate past the different options and select what you need in order to Upload your order to H&H.
Once the order has been fully processed, you will receive two sets of prints: the uncorrected prints, and the corrected prints (set to the H&H color standard here in the lab)
---